If you were to tell me on ahead of a highly-anticipated battle against the New England Patriots that Patrick Mahomes and the Kansas City Chiefs would march into Gillette Stadium without two of their best defensive players (on a nationally-televised Sunday Night Football broadcast), turn the ball over twice in two quarters on ill-advised throws by the young quarterback and head into the half down 24-9, I probably wouldn't have believed you. Well… that happened.
If you were to tell me that same Chiefs offense would score 31 points in the second half behind a 9/13, 188-yard, 4 TD performance from the same 23-year-old QB, I also would have thought you were pulling my leg a bit. Well… that happened, too. Giving up 43 points to the New England Patriots? Yeah, I wouldn't have thought twice about that one before agreeing with you. However, that's another story for another day.
Defensively, it was a relatively normal game for the Chiefs, who can put points on the board better than any offense in the entire league, but give up the most yards of all NFL defenses. As a matter of fact, this year's Chiefs defense has been the worst ever by some measures. For the third time this year (six games), Kansas City allowed 500 or more yards of total offense to its opponent. For the first time this year, it resulted in a loss. The Patriots escaped with a 43-40 win after four hard-fought, exhilarating quarters of football that felt like a potential AFC Championship preview. I think many are hoping these two teams meet again in the postseason.
Enough about the New England game. We know what Patrick Mahomes did and didn't do. Despite throwing four interceptions in his last two games, he's managed to maintain his league lead in touchdown passes. Mahomes also places in the top 10 in yards (6th) and passer rating (5th) while being sacked the least amount of times among starting QBs. Dubbed "Showtime," Mahomes has certainly lived up to his nickname throughout the year. Don't believe me? Check out this mini-highlight reel below. Oh yeah: keep in mind it doesn't contain any of the multiple "wow" throws Mahomes made against NE, either.
Here's a completely unedited mashup of throws Mahomes has made this year that are borderline impossible. It's been 5 games (plus 1 preseason throw).

Keep in mind these aren't all his great throws. Just the impossible ones. He's a human cheat code. pic.twitter.com/I8LFazARDH

— Seth Keysor (@RealMNchiefsfan) October 10, 2018
So… how did Mahomes get here? Most of you know the story about how heavily Chiefs GM Brett Veach scouted the then-Texas Tech QB, how Mahomes sat in a room with Andy Reid for hours on end installing the Kansas City offense, and how/why the team traded up 17 spots to select him in last year's NFL Draft. After sitting behind Alex Smith for nearly a year, the franchise parted ways with the now-Redskins QB and decided it was time to pass the torch to Mahomes.
Posting a 103.5 passer rating in the preseason, the Chiefs went through the motions of the first-team offense for three weeks in preparation for the regular season. Mahomes didn't disappoint, as you saw in the clip above (throw to Tyreek Hill). The stage was set for the 2018 season and the official beginning of the Patrick Mahomes era in Kansas City.
Everyone remembers the Chiefs' 5-0 start last season and how it led to the team losing six of its next seven games. This year, Kansas City started 5-0 and proceeded to lose the following week. This year is different, though. The defense might be worse, the head coach is the same, but the mentality and culture has done a complete 180. With Mahomes under center, no lead is safe and the confidence level in the Chiefs' huddle and locker room is extremely high. Time and time again this year, Mahomes has been put under immense amounts of pressure and has delivered. Let's break down the many ways in which the rocket-arm field general has raised many eyebrows and caught the attention of the entire NFL world these past couple months.
Starting off strong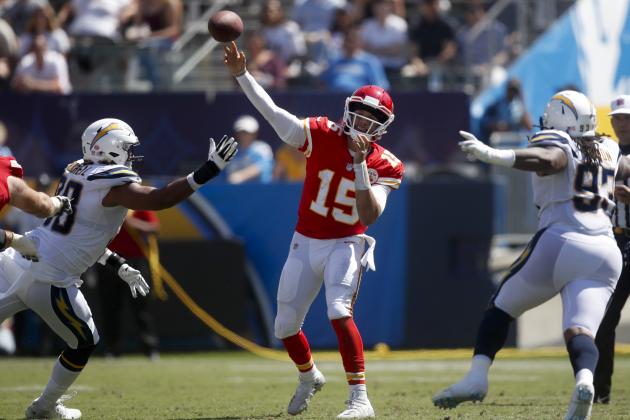 The task at hand: Season-opener. On the road. Against a division rival, and a team many picked to win the division over KC. Although just the first of many high-pressure situations Mahomes has faced this season, it doesn't get much tougher than that. With a large amount of fans and NFL pundits still on the fence about the move away from Smith, it was up to Mahomes to silence his critics and start the 2018 campaign off the right way.
How Mahomes responded: Tossing four touchdowns on the day and out-dueling future HOF quarterback Philip Rivers in his own house, Mahomes set the bar high in terms of what to expect moving forward. Averaging 9.5 yards per pass attempt, Mahomes was quite effective pushing the ball down the field with ease. Completing passes to seven different receivers, nearly everyone on the team got a slice of the pie that was Mahomes' unselfishness on the road in Week 1.
Why it's important: Starting the season off 1-0 and getting a head start on winning key divisional games is about as perfect a start to a season as a team can have. Doing so with a QB making his second career start (and it was a fantastic one, at that) is the icing on the cake.
Making a statement
The task at hand: Another road game, and another in-conference game that could have playoff seeding implications. Very hostile environment against a team the Chiefs managed to defeat just once in five tries during the Alex Smith era: the Pittsburgh Steelers. Start off the season 2-0 and put everyone on notice with an impressive win over another future HOF QB.
How Mahomes responded: In what has been likely his best game of the year thus far, Mahomes put together a masterful performance in Pittsburgh. Completing 82 percent of his passes for 326 yards and throwing a whopping 6 touchdown passes on the day to a quintet of different receivers, Kansas City never trailed for the second-straight week. Getting sacked just once throughout the entire 60 minutes, Mahomes continued to wow both sidelines and everyone watching with his marvelous play.
Why it's important: Insert pretty much everything I said about last week. Another road victory against an AFC team the Chiefs have bad blood with. Another fantastic performance for Mahomes.
Home, sweet home
The task at hand: The game vs. the 49ers was Mahomes' home debut. Looking to keep the team's momentum going against an upstart San Francisco squad seemed easier said than done.
How Mahomes responded: 24/38, 314 yards and another three-touchdown performance. Hanging 35 points on SF in the first half of the game, its outcome had been decided with 30 minutes still to go. Mahomes had no trouble picking apart the San Francisco defense, completing passes to nine different receivers on the day.
Why it's important: At this point, the only thing I can add to what I've previously said is that this game seemed different. Mahomes wasn't perfect, had to make some off-schedule plays, etc but still appeared to be superhuman. In front of the loudest home crowd the sports world has to offer, Mahomes delivered (again).
Through trials and tribulations
The task at hand: The second divisional contest of the year in the Chiefs' young season, Mahomes entered yet another hostile environment and played the Broncos for the second time of his career. With every AFC game important and each rivalry matchup even more so, this win could work wonders for Kansas City down the road. After facing immense pressure from Denver's defense all night and having by far his worst game as a pro up until that point, Mahomes was faced with a 10-point deficit heading into the fourth quarter. His clutch gene was put to the test for the first time in the 2018 season.
How Mahomes responded:
Here's the 3rd down left handed conversation from Patrick Mahomes. (@jeff_rosen88) pic.twitter.com/VK7GwvEA4r

— Carrington Harrison (@cdotharrison) October 2, 2018
That mostly sums up how awesome Mahomes was in the fourth quarter of that game and how frustrated the Broncos' D must have been after pulling out almost every stop possible. Outscoring Denver 14-3 in the final 15 minutes of the game, the Chiefs looked like a team capable of coming from behind to win ballgames. Mahomes' final stat line wasn't necessarily pretty (28/45, 304 yards, 2 total TDs), but it got the job done and kept the Chiefs undefeated. I included a bonus play from the last quarter of the game, just for fun:
The left handed pass by Mahomes will rightfully get attention but this 3rd and 16 pass by Mahomes is cold blooded and makes him elite. This helped them win. But beyond the throw, Mahomes knows where the free rusher is coming and how to avoid him. Big boy stuff pic.twitter.com/StNi9FDekP

— Geoff Schwartz (@geoffschwartz) October 2, 2018
Why it's important: Mahomes and his weapons pulled off something the Kansas City offense had immense trouble doing with consistency during Alex Smith's entire tenure with the Chiefs: make comebacks. There seemed to be zero doubt during the final few minutes of the game that Mahomes was going to get the job done. In his first prime time appearance, Mahomes stepped up and showed the world why people call him "Showtime."
Interceptions? Oh, I thought you said "misconceptions!"
The task at hand: Jacksonville's defense (at least leading up to a Week 5 matchup at Arrowhead) was generally regarded as either the best or second-best unit in the entire league. Every single one of Mahomes' remaining doubters had this game marked on their calendars as the first time in which the Texas Tech product would get exposed. We've talked about playoff implications a lot, but this game also had (and will have) more of the same.
How Mahomes responded: If you look at the box score of the game, you'll see Mahomes completed well over half of his passes, threw for 300+ yards (again), but failed to throw a single touchdown pass for the first time all year. Oh yeah, he threw his first two INTs, too! If you actually watched the game or went back and looked at the tale of the tape (which I always recommend, and you can read about the war against box score analysis here), you'd notice Mahomes wasn't nearly as bad as the numbers looked. Despite throwing a pair of picks and missing on a handful of throws in this game, Mahomes guided the team up and down the field all afternoon.
Why it's important: To me, the Jacksonville game was more of a statement about the Chiefs as whole than about their up-and-coming QB. It proved that even when Mahomes isn't his sharpest (which was certainly the case on this day), the team still has enough weapons to put Mahomes in a position to stop the bleeding. In the biggest test of the season so far, Mahomes gets a passing grade.
Moral victories?
The task at hand: Heading into Los Angeles to play the Chargers is one thing. Doing the same in Denver is one thing. Beating the Jaguars in front of a rocking-and-rolling Arrowhead crowd: one thing. Going into Gillette Stadium and overcoming the single-worst half of football you've played in your young career to trim down Tom Brady's 24-9 lead and beat him? That's another. After being picked off twice in heartbreaking fashion in the first half, Patrick Mahomes needed to put the last 30 minutes behind him and lead one of the greatest comebacks in Chiefs history if he wanted to resurrect his image on that night.
How Mahomes responded: Welp, he did pretty much everything that any person could've asked from him. Completing 9 of 13 passes for 188 yards and four second-half touchdowns, Mahomes put the Chiefs in a position to go into overtime against one of the greatest QBs of all time. Naturally, that potential GOAT led a game-winning drive and ripped the hearts out of every non-Patriots fan in the world.
Why it's important: In the previous week's game against Jacksonville, Mahomes showed that even when he doesn't bring his A-game, his B-game isn't that bad. Bringing his F-game to the first half in Foxborough, he passed the final test of franchise quarterbacks: being able to have a short memory, put the past behind them and come out firing the next chance they get.
So… what's your point?
We've seen Patrick Mahomes pick apart so-so defenses. We've seen him struggle with great defenses, only to figure things out and get his team the W. Whether it's on the road against division rivals or teams that have given the Chiefs nightmares for years, the young QB has stepped up for the most part and put his team in a good situation to win.
In Los Angeles, a star was born
In Pittsburgh, an era was ended
When the 49ers came to town, everyone in Kansas City finally got a firsthand look at their future
In the altitude of Mile High Stadium, "Showtime" became a reality
Back at home, the AFC's sleeper Super Bowl representative was sent back to the drawing board
And against the greatest head coach/QB duo ever, history was oh so close to being made.
If it's going to take a home-field advantage, a myriad of injuries, a masterful game plan and a horrible half of football from Patrick Mahomes in order for the Patriots to defeat KC by just three points, imagine what this team can accomplish.
The sky is the limit for both the Chiefs and Patrick Mahomes. If the first six games of the season have been any indication thus far, Mahomes will only find more and more ways to win over the hearts of his teammates and NFL fans around the world.
---
Thanks for checking out my website! If you want to discuss anything related to this article or chat about something else, feel free to drop a comment below. You can also reach out to me on the following social media platforms and/or contact me at the following:
Facebook: The Best Foote Forward
Twitter: @TheBestFooteFWD
Instagram: @thebestfooteforward
Email: bestfooteforward17@gmail.com
Phone: 913-202-4680
This is your reminder to put your Best Foote Forward and be the best version of yourself each and every day. Spread love and positivity to anyone you come in contact with. Do good in the world!
Please like, follow and share us: